The actions in this plan are varied and wide-ranging. Different actions aim to support different sectors and entities. During the implementation phase, the extent of engagement will also vary.
Some actions, such as the Aquaculture Strategy or Tourism Industry Transformation Plan, are sector specific. Others, such as the Health National Adaptation Plan, apply more to communities.
Other examples include the regular updates of local government guidance. Engaging with local government will be essential for this, as councils will have the most direct experience of which parts of the guidance work well and which could be strengthened.
Inclusive engagement, particularly with those disproportionately affected by climate change, will help to ensure actions lead to the intended outcomes.
This approach to implementation will align us with the emissions reduction plan's equitable transition strategy. It will do this by encouraging engaged and active public participation in the plan, including in partnership with Māori.
Reporting on this plan
Every two years, He Pou a Rangi – Climate Change Commission will report to the Minister of Climate Change on the implementation and effectiveness of the national adaptation plan (figure 10). The Minister must respond to these reports within six months of receiving them. This provides an opportunity for the Government to adjust the actions and manage uncertainty and risk. The Government also has international commitments to report on Aotearoa New Zealand's progress towards building resilience.
Figure 10: The monitoring, evaluating and reporting process for adaptation action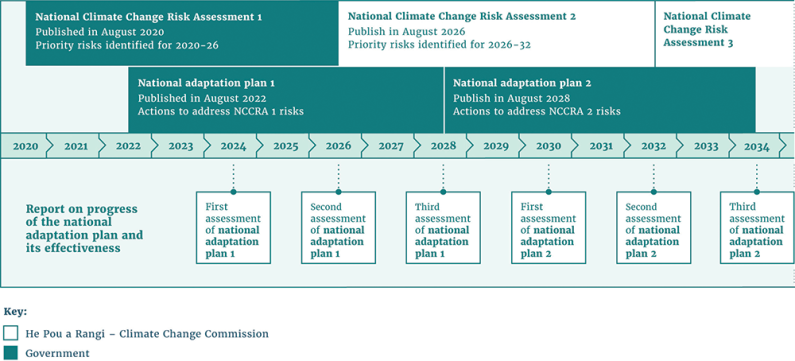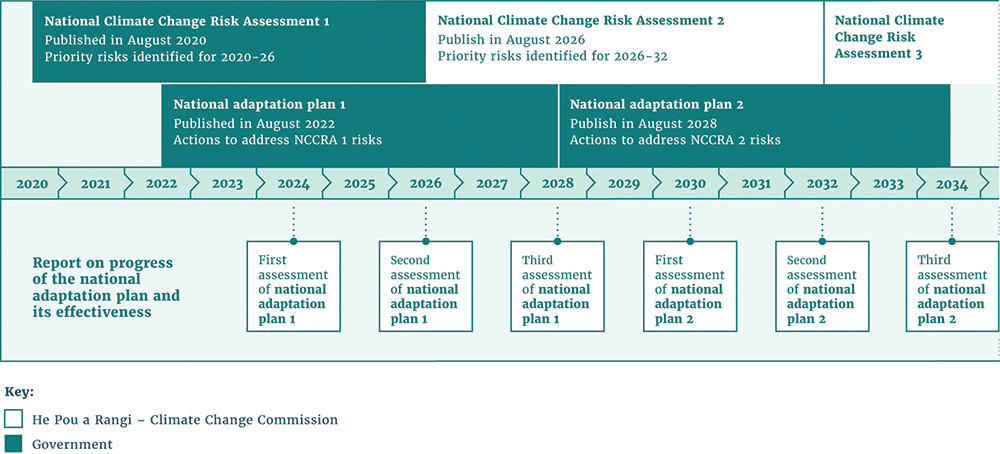 Governance and oversight
Successfully implementing the national adaptation plan will require action across government. Strong governance and accountability mechanisms are needed to make continuous progress. A climate change interdepartmental executive board (IEB) is being established to oversee the emissions reduction plan and national adaptation plan. The IEB will monitor and report on progress each year (annual IEB report). The Climate Change Response Minister's Group will oversee the plan and drive progress.
Regulatory stewardship (monitoring the Government's regulatory systems) is a further opportunity to consider climate change and improve how we implement the plan.
Action 11.1: Establish central government oversight and coordination for implementing the national adaptation plan
Timeframe: Years 1–6 (2022–28)
Lead agency: MfE
Relevant portfolio: Climate Change
Primarily supports: Objective SW1
Status: Current
This will provide transparency of implementation of the plan across government, improve coordination within central government and enable accountability.
Annual reporting requirements by agencies will be completed each year, commencing in 2023.
Progress indicators
Each critical and supporting action in this national adaptation plan includes progress indicators to 2028. To help the Commission assess the plan's effectiveness in reducing risk, the Ministry for the Environment will regularly assess the preparedness of certain organisations. These include policy developers and service providers. The results from the first survey in 2020 set a baseline for assessing the effectiveness of future actions.
Adjustment of actions
Monitoring the progress of the national adaptation plan and reporting on its effectiveness will enable the Government to identify whether it is appropriate to adjust the actions in the plan. The IEB annual report will identify:
any new actions to be included in the plan
any proposed actions that have received a mandate and are re-categorised as current actions, either critical or supporting
Some actions in this plan depend on new or updated data or information. Others need additional knowledge before they can be applied. Additional data may also be needed to inform the next national climate change risk assessment, which will be published in 2026. This research strategy describes the data, information and research needed to fill these gaps.
Knowledge gaps
Across the research themes, the following are steps to prioritise to 2028:
collate and complete priority data on risk (vulnerability, hazards, exposure)
provide open-access data, accessible to a variety of audiences
design, implement and share research platforms.
transform data into knowledge about vulnerability, including monitoring and evaluating sensitivity and adaptive capacity. This addresses the call to understand vulnerability and, in some cases, generic use of the word 'risk'. Studies such as monitoring and scenario modelling are needed, including in the following areas:

ecosystems. Monitoring ecosystems helps us understand their state and their changes through time. This makes it possible to understand vulnerability. Integrated monitoring and research highlights current ecosystem functioning as it alters in response to changing conditions and extreme events. It also facilitates invasive/biosecurity monitoring, which is another climate impact. At a higher level, a national monitoring system will help with environmental reporting and resource management
community vulnerability to changing conditions and extreme events. Studies of the events and their aftermath can include the response to, and recovery from, exposure to hazards, the immediate effects and long-term follow-up. This includes both sensitivity (how communities are affected) and adaptive capacity (how they respond) through the entire cycle. Frameworks include the National Emergency Management Agency's '4 Rs': reduction, readiness, response, recovery

support mātauranga Māori and kaupapa Māori research. A number of proposed actions will progress the development of iwi/Māori climate data and information. These include actions that focus on mātauranga Māori environmental indicators, iwi/Māori socio-economic risk and vulnerability assessment, mapping of taonga, and the extension of mapping the cultural footprint against high-impact weather
monitor and evaluate the effects of policy and interventions. This includes ecological restoration, environmental design, effects of adaptation actions in communities, and the adaptive capacity of the built environment and infrastructure.
Timeframes for filling knowledge gaps
Short term (2022–25)
The first three years of this national adaptation plan are key for both collecting the data and information and starting long-term programmes. This will allow data and information to be made available for the second national climate change risk assessment, which will be published in 2026.
During this period, research priorities are to:
consolidate existing data and make them open access
complete priority datasets
start national networks of long-term monitoring of natural environments
start and complete vulnerability studies.
Existing and concurrent research should aim to produce and publish results in 2024–25.
National Science Challenges
The National Science Challenges conclude in 2024. The projects with climate adaptation research are: The Deep South, Resilience to Nature's Challenges, Our Land and Water, New Zealand's Biological Heritage, Sustainable Seas, and Building Better Homes, Towns and Cities.
The results will likely be ready in time to inform the second national climate change risk assessment and ongoing national adaptation plan work.
Medium term (2025–28)
The second national adaptation plan will be published in 2028. Research priorities include:
completing nationally prioritised datasets
setting up the national ecological monitoring network
continuing and beginning research programmes
publishing research results, especially vulnerability studies and risk syntheses.
Long term (2028 onward)
Research in all areas will build on what has been learned, and address what remains to be known, as knowledge about climate change grows. This requires a commitment to long-term research, including national environmental monitoring and ecosystem studies.
Other actions during this period include:
regularly updating maps and information on hazards and exposure
collating research findings in vulnerability assessments and risk syntheses
monitoring and evaluating restoration and adaptation.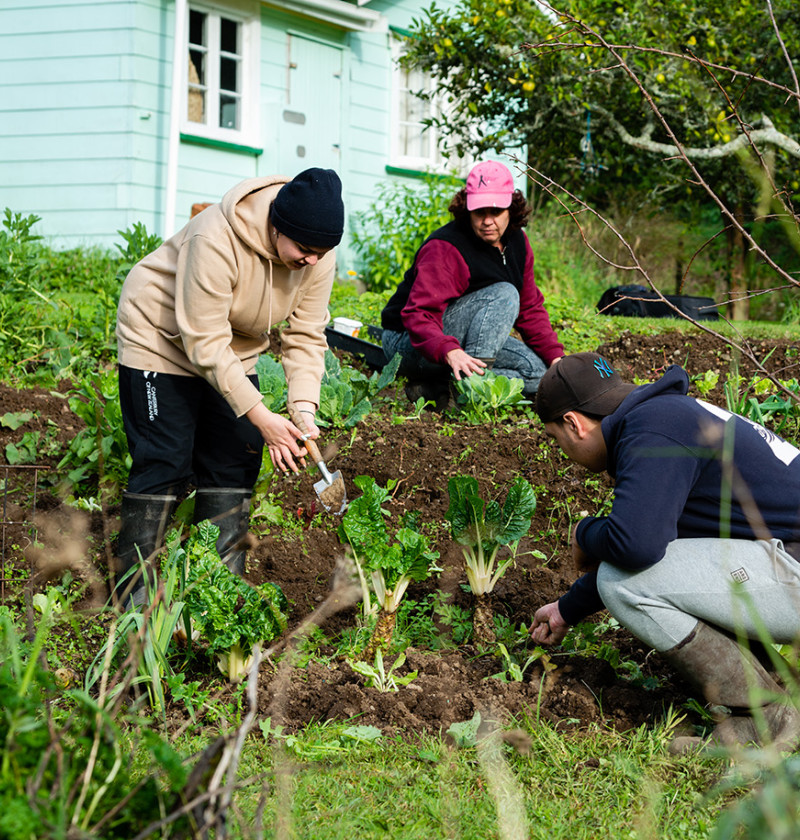 Chapter 11 Implementing the plan
August 2022
© Ministry for the Environment