Go back to "

Aotearoa New Zealand's first national adaptation plan

"
Chapter 2
Our first national adaptation plan 2022–28
This chapter introduces Aotearoa New Zealand's first national adaptation plan for 2022–28.
This chapter outlines:
the risks Aotearoa New Zealand will face from climate change, including the ten most significant risks across the domains identified in the National Climate Change Risk Assessment 2020
the structure of this plan, including:

the Government's four priorities for addressing those risks
the five outcome areas in which climate resilience will be embedded across Government
the objectives of the plan
the types of actions contained in the plan.
This national adaptation plan is the first in a series of national adaptation plans that will be developed every six years in response to national climate change risk assessments prepared by He Pou a Rangi – Climate Change Commission. It is the first step towards meeting the Government's long‑term vision and goals for a climate-resilient Aotearoa New Zealand.
This plan is a Government-led plan for all New Zealanders that brings together existing actions and proposed future work into a multi-year work programme. Together, these set out what central government will do over the next six years to enable all levels of government, sectors and communities and all New Zealanders to better understand the risks and take action to address them.
We have a clear picture of the risks for 2020–26
The actions in this plan are strongly guided by the National Climate Change Risk Assessment 2020. This identifies:
43 priority risks that Aotearoa faces from climate change
an urgency profile for each risk, and the responses that would help address each risk
the ten most significant risks – these are the two most urgent risks in each of the five domains (natural (N), human (H), economy (E), built (B) and governance (G)) – see figure 6.
Figure 6: The ten most significant risks Aotearoa will face from climate change in 2020–26, by domain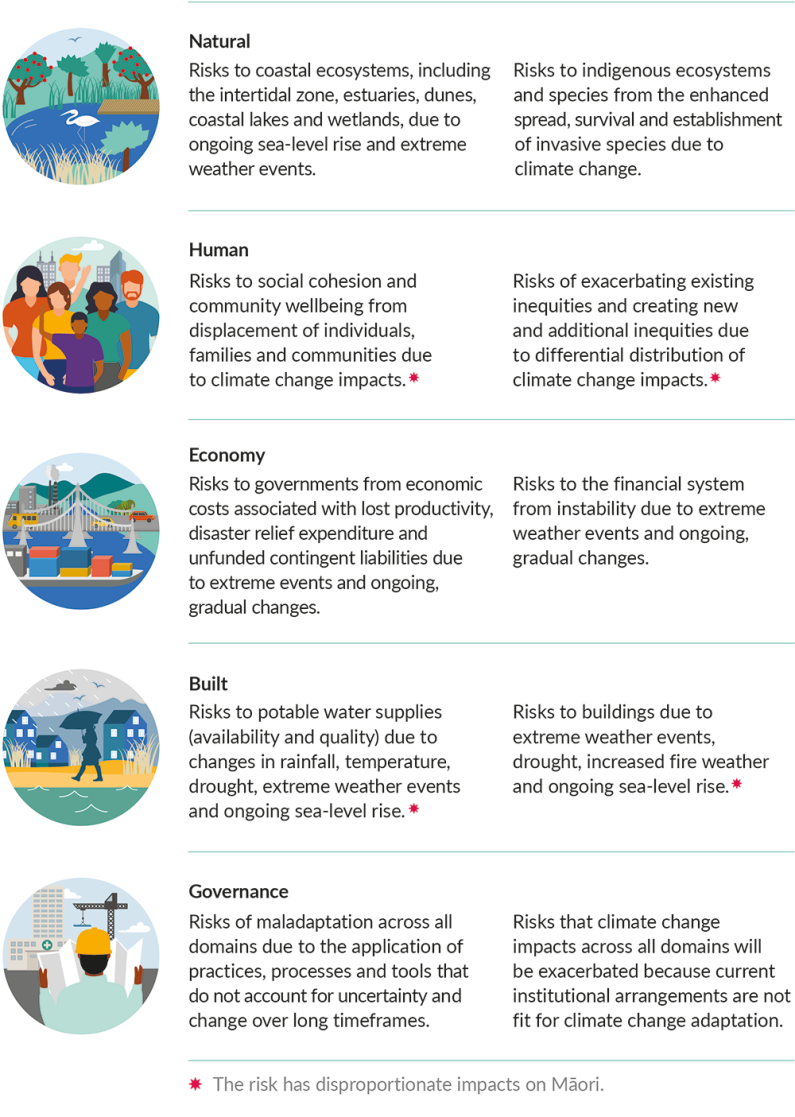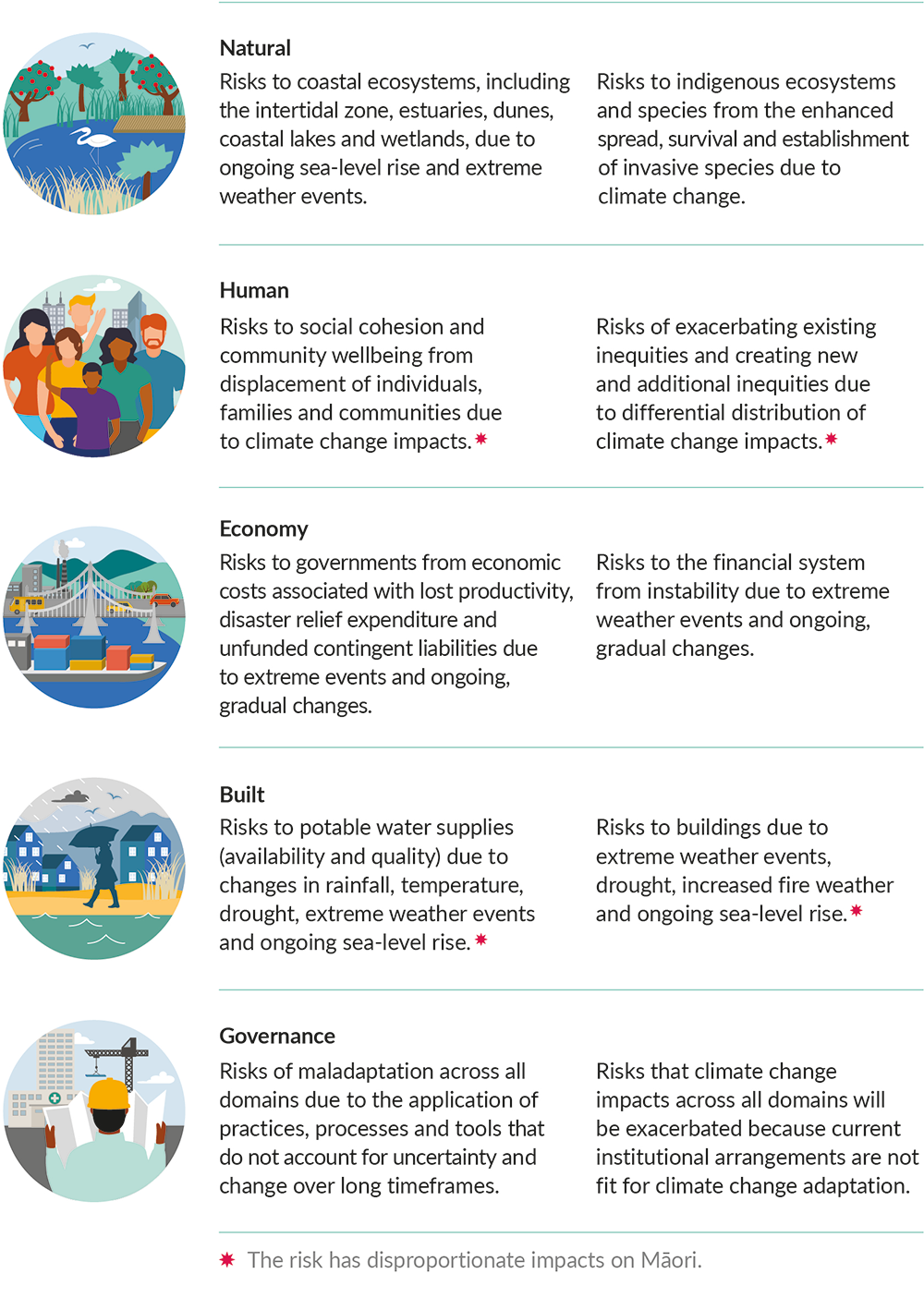 Four priorities to address the risks
The national adaptation plan is required to address the most significant risks identified by the risk assessment. The actions in this plan will help to address all 43 risks, as well as the risk to the telecommunications network.
The plan sets out four priorities for action:
Outcome areas
To address specific realms of risk, this plan sets out five 'outcome areas' where targeted action is needed. These broadly align with the domains identified in the risk assessment:
natural environment (NE)
homes, buildings and places (HBP)
infrastructure (INF)
communities (C)
economy and financial system (EF).
Objectives
The Government has identified a series of objectives for addressing the risks identified in the risk assessment. These objectives relate to either:
system-wide issues or
specific 'outcome areas'.
Table 1: System-wide and outcome area objectives of the plan
Area

Code

Objectives

System-wide

SW1

Legislation and institutional arrangements are fit for purpose and provide clear roles and responsibilities.

SW2

Robust information about climate risks and adaptation solutions are accessible to all.

SW3

Tools, guidance and methodologies enhance our ability to adapt.

SW4

Unlocking investment in climate resilience.

Natural environment

NE1

Ecosystems which are healthy and connected, and where biodiversity is thriving.

NE2

Robust biosecurity reduces the risk of new pests and diseases spreading.

NE3

Support working with nature to build resilience.

Homes, buildings and places

HBP1

Homes and buildings are climate resilient, and meet social and cultural needs.

HBP2

New and existing places are planned and managed to minimise risks to communities from climate change.

HBP3

Māori connections to whenua and places of cultural value are strengthened through partnerships.

HBP4

Threats to cultural heritage arising from climate change are understood and impacts minimised.

Infrastructure

INF1

Reduce the vulnerability of assets exposed to climate change.

INF2

Ensure all new infrastructure is fit for a changing climate.

INF3

Use renewal programmes to improve adaptive capacity.

Communities

C1

Enable communities to adapt.

C2

Support vulnerable people and communities.

C3

Support communities when they are disrupted or displaced.

C4

The health sector is prepared and can support vulnerable communities affected by climate change.

Economy and financial system

EF1

Sectors, businesses and regional economies can adapt. Participants can identify risks and opportunities and take action.

EF2

A resilient financial system underpins economic stability and growth. Participants can identify, disclose and manage climate risks.
Actions
The actions throughout this plan are designed to achieve these objectives – and many actions will help us achieve more than one objective. Many actions are system-wide, because climate risks are interconnected and affect the broader systems of our society.
The Table of actions provides a comprehensive list of actions in this plan. The actions are mapped to the relevant risks identified by the National Climate Change Risk Assessment 2020 and the Government's system-wide and outcome area objectives. The Table of actions also identifies the lead agency responsible for the action, the relevant Government portfolio, the status (current or proposed) of the action, timeframe and implementation measures.
Chapters 3–10 identify critical actions, supporting actions and proposed actions.
Critical actions are the actions that will make the most difference and we must start now.
Supporting actions are either less urgent, or are dependent on the critical actions.
Future work programmes are proposed actions that reflect current thinking about what will be needed in future.
All critical and supporting actions are current, which means they have funding and mandate. Future work programmes are proposed, which means whether they go ahead, and in what form, will depend on a range of factors. These include the critical or supporting actions they depend on, the need for those actions, and funding decisions, including future budget decisions.
Adaptation planning requires a flexible approach that can accommodate change but keep us moving in the right direction. Inevitably, actions in the later years of this plan are less clearly defined. Over time, decisions will be made on which proposals to progress and when, and whether new proposals are required. These decisions will be made as the results of earlier actions become clearer.
Many of the actions in this plan are interrelated and will help address multiple risks, priorities and objectives. This reflects the interconnected nature of climate issues. It also underscores the importance of taking a flexible approach to the future work programme.
Chapter 11, the final chapter in this plan, addresses implementation of the plan.
Chapter 2 Our first national adaptation plan 2022–28
August 2022
© Ministry for the Environment