Land is central to our identity as people of Aotearoa New Zealand – it is our tūrangawaewae, our place to stand. This country's unique landscapes connect us culturally and emotionally to the whenua (land) we call home.
As tangata whenua – people of the land – Māori have a distinct and special connection to land.
Land is valuable. It is a place for us to live, to make a living, and to grow the food and materials we need for ourselves and to export. From far north to deep south, huge variations in the landforms, soil, and climate influence how land across the country can best be used and managed.
The state of our land today is a legacy of the ways it was used by previous generations. Some former land uses limit how we can use it today. In the same way, our choices about land use today will affect future generations.
For Māori, the people of a place are related in personal terms to its mountains, land, and rivers, as well as the ecosystems and species present through whakapapa (ancestral lineage and connection). These are taonga tuku iho – treasures passed down through time under kaitiakitanga (guardianship).
Many Māori people reference their tribal boundaries and other landmarks when introducing themselves. Locating oneself with features of the land signifies a connection with a mountain, a lake, a river, or a coast, and the land within these boundaries.
A common Māori practice under tikanga (practice) and kawa (protocol) is to bury a baby's placenta in the soil. The word 'whenua' also means placenta, which references the direct connection between Papatūānuku (Earth mother) and the nourishment she provides to all her people. The connection is physical and spiritual, and integral to the survival and wellbeing of Māori. It is shown through whakataukī (sayings) like 'Ko au te whenua, ko te whenua, ko au' – 'I am the land and the land is me'.
Land is central to all human life. Land ecosystems maintain liveable temperatures on Earth, clean water to drink, the air we breathe, and a place to live. Soil supports the plants we use for food and the materials we need to build shelter and clothe ourselves.
For many New Zealanders, time spent in nature is a powerful way to rest, recreate, and recharge. A healthy whenua also supports the economy and is the basis of an income for many New Zealanders. Te toto o te tangata he kai, te oranga o te tangata, he whenua, he oneone: while food provides the blood in our veins, our health is drawn from the land and soil.
Māori and Western world views value soil as a precious resource and a taonga (Hutchings & Smith, 2020). Keeping soil healthy and productive is important for maintaining its ability to produce food and materials like timber.
Ko te Pū – a Māori creation story
Ko te Pū
The origin, the source
Te More
tap root
Te Weu
root, fibre
Te Aka
long, thin roots
Te Rea
growth
Te Wao-nui
primeval forest
Te Kune
pregnancy, conception
Te Wheke
a sound like creaking branches
Te Kore
the nothingness
Te Pō
the night and the darkness before light
Ki ngā tāngata Māori nā Rangi rāua ko Papa
the primordial beings (sky and Earth), the many atua (gods), and the creation of humans.
Ko tēnei te tīmatanga o te ao
We breathe life, the beginning of the world
Tihei mauri ora!
This karakia (chant, prayer) tells a Māori story of creation and describes the direct relationship Māori have with Papatūānuku and the natural world. All the myriad elements of creation – living, dead, animate, and inanimate – are seen as alive and interrelated. All are infused with mauri (a living essence or spirit) and all are related through whakapapa (ancestral lineage and connection).
Karakia remind us as Māori to uphold the mauri in every interaction we share with the environment, teaching whakapapa, Māoritanga (Māori culture), kawa, tikanga, and mātauranga (knowledge). Reciting karakia also strengthens an understanding of who we are and where we come from.
Read the long description for Ko au te whenua, te whenua ko au
For Māori, Papatūānuku is the source and sustainer of the land and all its life including humans. Our relationship with her has many facets.
Whakapapa
Our whenua is our identity. Through the whenua we whakapapa to our tūpuna/tipuna. We use the boundaries of our tribal land to introduce ourselves, referencing our mountain, river, land, and ocean.
Tūrangawaewae
The whenua is our home, our place to stand. The word whenua also means placenta. This demonstrates the lifelong connection formed when our placenta is buried after birth until we die and are returned to the whenua.
Hauora
A healthy whenua is fundamental to our health and physical, mental, spiritual, and social wellbeing. It provides resources to feed, shelter, and heal our whānau, opportunities to learn, and connects us to Papatūānuku.
Kaitiakitanga
When we act as kaitiaki and care for and protect our land, we uphold the mana of our ancestors and remember the struggles of those who came before us.
Tino rangatiratanga
Tino rangatiratanga is a way of living according to tikanga that safeguards the land and its resources for future generations.
Momotu
Different understandings and breaches of Te Tiriti o Waitangi led to conflict and the New Zealand land wars. Laws were also used to take away and alienate Māori from their whenua.
Signed in 1840, Te Tiriti o Waitangi formalised the partnership between mana whenua and Pākehā. Despite progress, considerable change is needed to honour the partnership and restore balance through utu and the rights of mana whenua.
Glossary
Ko au the whenua, te whenua ko au: I am the land, the land is me.
Hauora: health.
Iwi: extended kinship group.
Kaitiaki: guardian.
Kaitiakitanga: guardianship or stewardship.
Mana whenua: customary authority exercised by iwi or hapū.
Momotu: separated.
Pākehā: non-Māori New Zealander, generally European.
Papatūānuku: Earth mother.
Tikanga: customs or protocols.
Tino rangatiratanga: sovereignty and self-determination.
Tūpuna or tipuna: ancestors.
Tūrangawaewae: place where one has the right to stand.
Utu: concept of reciprocation or balance.
Whakapapa: genealogy or descent.
Whenua: Land.
New Zealand's landscapes are spectacularly diverse – sand dunes, active volcanoes, braided rivers, alps, and fiords. These landscapes allowed a huge range of land ecosystems to develop – 152 major classes and 71 rare ecosystems – all with distinct plants and animals (Singers & Rogers, 2014).
(See indicator: Rare ecosystems.)
The natural variations of climate, topography, and soil also shape how land is used and managed across the country. Most flat land has deeper fertile soils, can be irrigated and cultivated easily, and is primarily used for agriculture, including vegetable growing and horticulture. Dairy farming is most efficient on flat land, while sheep and beef can be farmed on hill country (Journeaux et al., 2017). Steep alpine land is generally set aside for conservation and enjoyed for recreation and tourism.
How we manage land can increase, decrease, or maintain the health, productivity, and mauri of the soil. People who live and work close to the land like farmers, foresters, and mana whenua (local people) usually have a good understanding of the characteristics of a place and its types of soil. This local knowledge brings an opportunity to tailor land use to the terrain and keep the soil healthy and productive.
Soil varies across our landscapes, with 15 major soil orders and thousands of mapped sub-types (Hewitt, 2010; Manaaki Whenua – Landcare Research, n.d.). Some types are more fertile or more susceptible to erosion than others.
Many have naturally low levels of the nutrients that are essential for agricultural production, including phosphorus, nitrogen, and trace elements.
Te reo Māori (Māori language) has more than 60 words for different types of soil, which are distinguished by texture and colour using sight, smell, touch, and taste. The names indicate that some soil is better suited for particular cultural practises or for growing certain crops than others (Roskruge, 2007).
Hine-ahu-one was the first human created by Tāne-nui-a-Rangi from the red clay at Kurawaka. Her source (clay) highlights the importance of soil and the connection between soil and people. For Māori, soil health is reflected in its capacity as a living ecosystem to sustain and support all life, including microbes, plants, animals, and humans. Instead of viewing soil as a commodity, questions such as 'what can we do for the soil?' are encouraged (Hutchings et al., 2018) (see Framing a Māori view of soil). Enhancing the mauri of soil can be achieved by improving its fertility and structure and by supporting and enhancing soil biodiversity (Hutchings et al., 2018).
Sustainable management of soil and other resources on Māori land is a significant feature of Māori land management (Harmsworth & Mackay, 2010). Ki uta ki tai (from the mountains to the sea) is a whole-of-landscape Māori approach to managing the environment and its resources.
For hundreds of years, generations of people have modified New Zealand's original landscapes and soils to meet their need for food and shelter, and to make a living.
In the past 25 years, the use of land has intensified by increasing the number of livestock and the yields per hectare, and by adding more fertilisers and irrigation (Wynyard, 2016). Intensification has benefitted the economy but has also had negative effects on the environment. Those effects can last for a long time. Levels of nitrogen and phosphorus in groundwater and aquifers are likely to be the result of fertiliser applied to the land decades ago (Morgenstern & Daughney, 2012; Wynyard, 2016).
Land outside our expanding cities is sought after for housing, but is also valuable for growing crops and farming (Curran-Cournane et al., 2018). Making the most appropriate use of this productive land in both the short and long term is challenging and can require trade-offs between different uses.
The land under our feet today was inherited from our ancestors, and how they modified and used it affects how we can use the same land today. In the same way, the choices we make about how to use the land will have consequences for tomorrow's New Zealanders.
Framing a Māori view of soil
"When I hold soil or living compost in my hands, there's a feeling of intrigue, of mystery, about its creative potential for growth and for nurturing kākano into life", says Dr Jessica Hutchings (Ngāi Tahu, Gujarati). "I have reverence for soil because she is my tūpuna and there is no separation between me as a human being and the soil as my ancestor."
Māori food growing has a long history in Aotearoa New Zealand. Those who first voyaged from Polynesia encountered a cooler climate here and had to adapt their growing methods to suit crops like kūmara. Adding stones or mounding up soil were used to increase its temperature.
"The Ōtuataua Stonefields on the Ihumātao Peninsula are significant as the first cultivated gardens in this country and covered about 100 hectares. Māori were forced from that land in 1863, after which it was farmed by settlers and subdivided as part of the colonial project – as happened to much of our land. This place remains an example of the whakapapa and stories that attach people to soil and to place in Māori communities and need to be honoured, especially in land-use decisions."
To ensure a space for Māori ways of knowing and connections with Māori food systems, Jessica was part of a team with Te Waka Kai Ora (Māori Organics Authority) that undertook kaupapa Māori research to develop a framework called hua parakore. It is based on six principles or kaupapa drawn from mātauranga Māori: whakapapa, wairua, mana, māramatanga, mauri, and te ao tūroa. It is now being used across broader contexts, including soil, to support cultural and environmental wellbeing.
"Most Māori have an understanding of these terms. How they choose to apply the framework in relation to soil is up to different tribes, hapū, and whānau as they have their own specific kawa to do that."
Hua parakore is also the basis of the world's first indigenous verification system that has given Māori organic producers a pathway to tell a story about their food being grown according to these values.
"We should be looking to hua parakore farmers and growers because they are organic and have good soil practices that result in beautiful soil. They're also building knowledge by observation and trying things out over long periods of time, typically intergenerationally. This is the kaupapa of māramatanga – being gradually awakened to an intuitive sense of knowing about the soil.
"Soil is the most precious thing we have. We come from soil and are the embodied form of Papatūānuku, so to assign personhood status and see soil as an ancestor would elevate her mana. Our soil is suffering and time is running out – we need an intervention as bold as giving soils personhood status to change the way we think about soils and to restore their immeasurable value."
Dr Jessica Hutchings has a PhD in environmental studies. She is co-editor of Te Mahi Oneone Hua Parakore: A Māori Soil Sovereignty and Wellbeing Handbook.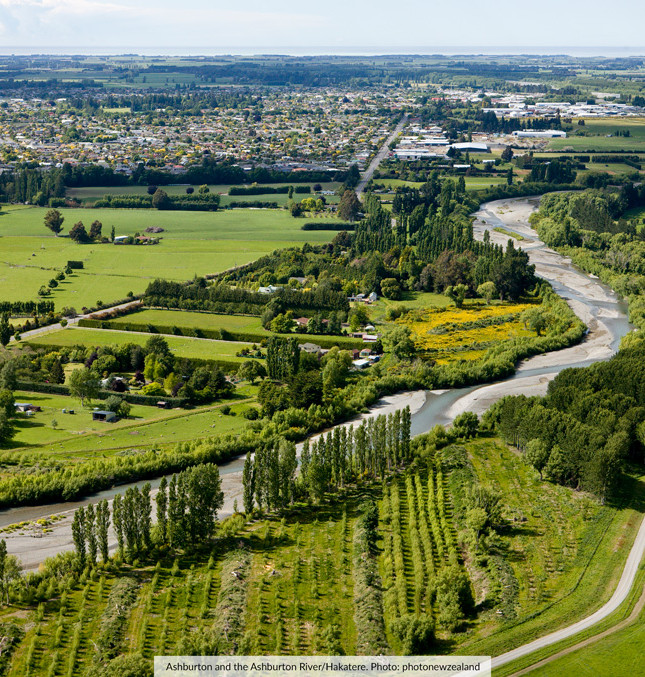 Chapter 1: Our place to stand
April 2021
© Ministry for the Environment