Environment Aotearoa 2022 provides an overall picture of our environment across the marine, freshwater, atmosphere and climate, land, and air domains.
Environment Aotearoa 2022 provides an overall picture of our environment across the marine, freshwater, atmosphere and climate, land, and air domains.
Environment Aotearoa 2022 is produced by the Ministry for the Environment and Stats NZ under the Environmental Reporting Act 2015. The triennial report synthesises the evidence base on the state of the environment contained in domain reports since Environment Aotearoa 2019. The report does not suggest any response as it is out of scope under the report's governing legislation. This is a summary of the full report.
What's new in Environment Aotearoa 2022
Environment Aotearoa 2022 explores the importance of the environment to our lives and livelihoods
Three years on from the previous state of the environment report, our environmental indicators do not register much change. But we have changed the way we have approached and compiled the evidence.
Environment Aotearoa 2022 places environmental change in the context of our lives as individuals, families (whānau), and communities. We have pulled together a diverse set of evidence drawing on Māori knowledge (mātauranga Māori), environmental science, health science, and economics.
The integrated approach and wellbeing focus of this report supports us to reflect on our connections with the environment (te taiao) and our impacts on it.
The report advances the inclusion of mātauranga Māori in environmental reporting 
Understanding how mātauranga Māori can inform environmental reporting is an active area of research. This report builds towards a more sophisticated understanding of how to bring different bodies of knowledge together in future reporting. 
Environment Aotearoa 2022 uses Te Kāhui o Matariki (the Matariki star cluster) to organise the evidence in the report. As a signal of the Māori new year, it commemorates loss and celebrates hope for the future. Each star in the cluster represents a way that we connect with the environment. Bringing a Māori world view (te ao Māori) recognises the interconnectedness of all parts of the environment, including people, and speaks to something that connects us all to Aotearoa New Zealand. 
Wellbeing and our connection to the environment (te taiao)
Our wellbeing is linked to a healthy environment
In Environment Aotearoa 2022, we view people as part of the environment.
Wellbeing means different things to each of us, and how we define and understand our relationship with the rest of the natural world is diverse and evolving.
In mātauranga Māori, wellbeing can be described using 'waiora'. The concept grounds human wellbeing in water (wai) as the source of life (ora). In this view, human wellbeing and te taiao are linked to one another.
Environment Aotearoa 2022 brings together diverse conceptions of wellbeing in relation to the environment, helping provide a richer understanding of our many connections with the environment.
Key findings about the environment and wellbeing
Loss and pressures on species and ecosystems (Pōhutakawa)
Loss and pressures on species and ecosystems (represented by the star Pōhutakawa) have changed with human settlement. Each generation leaves a legacy effect on the environment, including pressures of land-use change and intensification, pollution, natural resource use, climate change, and invasive species.
Land and soil (Tupuānuku)
Land and soil (Tupuānuku) support our economy, food production, and our health. Soils regulate the flows of nutrients, contaminants, and water. Soil quality sometimes does not meet target ranges and we are losing soils to erosion, development, and land fragmentation. Over time the area of highly productive land available for crops and livestock has decreased.
Biodiversity and land-based ecosystems (Tupuārangi)
Biodiversity and land-based ecosystems (Tupuārangi) provide us with food, medicines, and materials. Access to nature and greenspaces has wellbeing benefits, decreasing stress levels and increasing attention, cognitive function, and memory. Access to greenspace is limited and unevenly distributed, especially in urban areas. In recent years native forest cover has remained fairly static overall, but with increases in some regions and losses in others. The majority of our rare ecosystems are threatened. Habitat destruction, along with the introduction of mammalian predators, has severely reduced the populations of many unique birds, reptiles, and plants. Many remain threatened with extinction or are at risk of becoming threatened. Even small changes to our environment can have important consequences for ecosystems and species, and therefore our wellbeing.
Freshwater (Waitī)
Freshwater (Waitī) is vital to our wellbeing through health, cultural identity, food harvesting, and recreation. Our freshwater sources are degraded in areas where land has been transformed by human activities. Twenty-year trends show improvements in nitrogen and phosphorus concentrations for river water quality at some sites, and worsening trends at others. We continue to see the loss of wetland ecosystems, with concerted efforts by communities to restore them.
Marine environment (Waitā)
The marine environment (Waitā) contributes to our wellbeing through providing food, opportunities for recreation, and cultural knowledge of ocean navigation. Coastal water quality is changing with variable trends in nutrient and sediment pollution, and the impacts of plastic waste on marine life. Climate change is affecting our oceans through ocean acidification and increased sea-surface temperatures, which will impact our marine ecosystems for generations.
Rain and frosts (Waipunarangi)
Rain and frosts (Waipunarangi) show that shifting rainfall patterns (along with warming temperatures) threaten our agricultural economy, native ecosystems, Māori customs, and impact our mental wellbeing. Short-term drought frequency is increasing in some parts of the country and glacier ice volumes are decreasing.
Air, winds, and the sky (Ururangi)
Air, winds, and the sky (Ururangi) demonstrate how our wellbeing is influenced by air quality and practices related to the observation of the winds and skies. Air quality is slowly improving across Aotearoa, but air pollution at monitored sites is above the World Health Organization 2021 guidelines for most air pollutants some of the time. Light pollution from urban areas impacts some of our native species (such as wētā) and reduces our ability to see the stars. For some people, wellbeing is connected to the ability to use the night sky as a guide, and to celebrate Matariki. Connecting with the night sky is a universal human experience associated with psychological benefits and an increased sense of responsibility towards te taiao.
Future outlook
Understanding future trends helps ensure the health of the environment and of future generations
Looking to the future (Hiwa-i-te-rangi) identifies many challenges that may impact the wellbeing of current and future generations. These include the impacts of climate change, population growth, risks to food and water security, and threats to ecosystems. The challenges ahead are complex and can play out in many ways, and sometimes beyond our direct control.
Making better decisions about our environment
Building a robust environmental monitoring and reporting system supports New Zealanders' decisions and actions
The need for reform to better integrate the environment and intergenerational wellbeing in policy has been documented by the Parliamentary Commissioner for the Environment. Over time this will require investment, research, and continuous innovation to build our knowledge base.
This report helps to transition us towards a new system of reporting that can empower us to create the future we want, for ourselves and for future generations.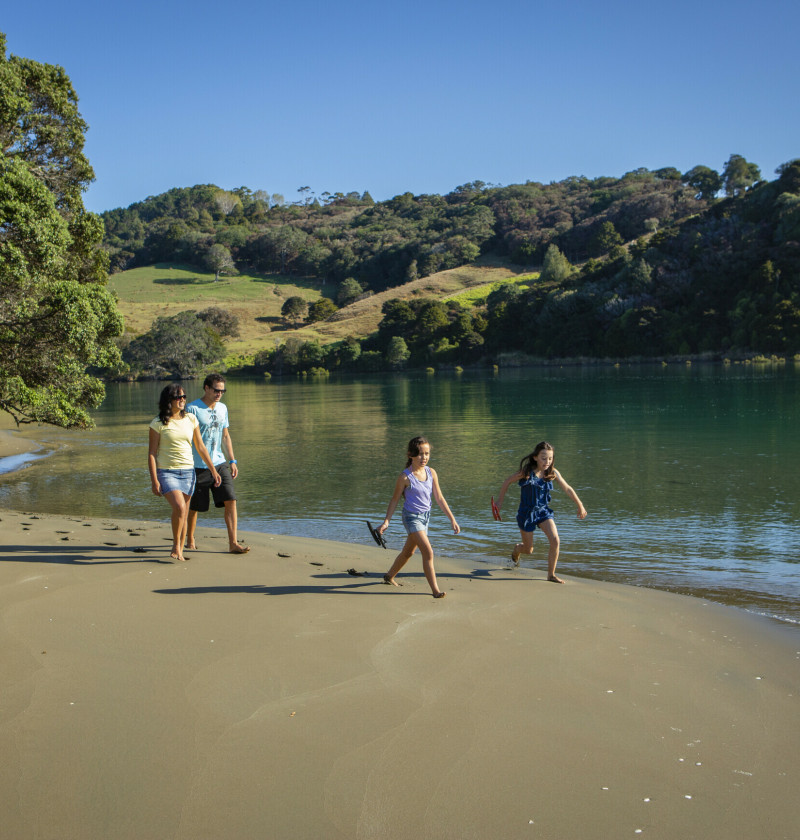 Environment Aotearoa 2022
April 2022
© Ministry for the Environment