Freshwater ecosystems in many parts of Aotearoa New Zealand have continued to deteriorate, in some cases, alarmingly so, despite direction in the RMA and the previous NPS-FM. Some water bodies have more significant challenges than others.
The NPS-FM is part of the Essential Freshwater reform package, intended to protect and improve rivers, streams, lakes and wetlands in Aotearoa. The package was released in 2020 and amended in 2023 .
The aim of the Essential Freshwater package of regulations is to:
stop further degradation of the country's freshwater
take immediate steps to improve water quality within five years
reverse past damage to bring waterways and ecosystems to a healthy state within a generation.
2023 amendments
The Government updated the Essential Freshwater 2020 regulations (including the NPS-FM) in February 2023 , to support their effective implementation, and in response to consultation feedback. Changes to the NOF provisions were made to improve clarity, reduce complexity and correct some errors, without fundamentally changing the freshwater-policy direction. The Ministry's website provides further information on the amendments to freshwater regulations.
The NPS-FM is a regulation made under the RMA. It provides national direction that regional councils must apply through their regional policy statement and regional plans, and city and district councils through their district plans. The NPS-FM 2020 replaced the NPS-FM 2017.
Te Mana o te Wai
At the core of the NPS-FM is the concept of Te Mana o te Wai, which underpins the entire freshwater management system.
The NPS-FM applies regionally and accounts for the differences between regions and catchments. However, territorial authorities must also use Te Mana o te Wai as the fundamental concept when making decisions that affect freshwater environments, including urban growth and zoning, and managing land use and activities that affect freshwater. For more information, see the Essential Freshwater Te Mana o te Wai factsheet.
Te Mana o te Wai
Te Mana o te Wai refers to the vital importance of water and is the central concept, or korowai, of the Essential Freshwater package. It underpins all aspects of freshwater management, including all parts of the National Objectives Framework(…). When managing freshwater, it ensures the health and well‑being of the water is protected, then human health needs are provided for, before enabling other uses of water.
Source: Te Mana o te Wai factsheet (Ministry for the Environment, 2020) [PDF, 600 KB]
Although Te Mana o te Wai has been part of the NPS-FM since 2014, the direction as to how Te Mana o te Wai must be applied in the current NPS-FM is substantially different. This guidance clarifies the intent of this new direction and seeks to minimise ambiguity through practical advice on applying the NOF. Clarifying relevant policies and clauses will help those involved in planning to understand what is required including the expectations, opportunities and roles in the process.
Timeframe
Under the RMA, regional councils must notify a regional plan and regional policy statement (or changes to existing ones) that give effect to the NPS-FM by 31 December 2024. They must submit that plan to the Chief Freshwater Commissioner, and the plan must then go through the freshwater planning process.
This timeframe is a big change from the longer period in previous versions of the NPS-FM. It will require more focus and resources, and local authorities may have to work with incomplete or imperfect information. The NPS-FM acknowledges this and provides for the use of best information available (see the section Clause 1.6: Best available information and the NOF).
More information
Legislation requirements:
Essential Freshwater policies and regulations implementation guidance:
Tangata whenua
Councils must actively involve tangata whenua in freshwater management, including in decision-making processes, to the extent that tangata whenua wish. Councils may need to look more holistically at their processes and relationships to engage with tangata whenua (see the section Clauses 3.2 and 3.4: Active involvement of tangata whenua and engagement with the wider community).
Communities
Councils must also engage with the wider community.
What about city and district councils?
District plans must be reviewed and, if necessary, amended to give effect to the NPS-FM "as soon as reasonably practicable".
The NPS-FM applies to all freshwater, and Te Mana o te Wai is relevant to all resource management where it affects freshwater, including in city and district planning.
Clause 3.5 Integrated management, requires a ki uta ki tai (integrated approach) to give effect to Te Mana o te Wai. It also sets out requirements relevant to city and district councils. This includes encouraging the coordination and sequencing of urban growth, and promoting positive effects and managing adverse effects of urban development on freshwater bodies.
To give effect to Te Mana o te Wai, councils must consider matters such as how urban growth and increases in impervious surfaces will impact on stormwater flows, how stormwater affects the water bodies it is discharged to, and methods to manage urban growth and stormwater discharge. The identification and control of urban growth areas must prioritise the health and well-being of water bodies.
What about plan changes already under way?
Some plan changes and new regional plans that began under previous versions of the NPS-FM are still in progress. These can continue. Councils must consider the 2020 NPS-FM, and assess whether it is within the scope of submissions to amend the proposed plan, to give effect to the NPS-FM through the process that is underway.
Getting the planning framework right is just the first step. Implementing the plans and giving effect to Te Mana o te Wai will require a lot of work, good relationships, and both existing and new tools. Consents, monitoring, reporting and enforcement will need to be ongoing and focused on giving effect to Te Mana o te Wai.
The Ministry also has a role as steward of the freshwater management system. It provides guidance to councils implementing the NPS-FM 2020 and other national regulations as intended, such that freshwater outcomes will be achieved.
Tangata whenua
Ongoing involvement of tangata whenua in freshwater management should form a part of early and continuing discussion about applying the NPS-FM. This includes decision-making processes about formal arrangements to share or hand over management, and decision-making responsibility. Any such arrangements will form part of the ongoing implementation of the NPS‑FM.
Transitional support
When big changes to activities are needed to achieve the long-term vision for a freshwater management unit (FMU), this will require support and good evidence-based information on sustainable future management.
Implementation road map
A road map could set out:
milestones towards the long-term vision and outcomes in the regional policy statement and plan
any reductions in water takes or discharges.
This will give the community greater certainty about planning for change, and spending.
Monitoring
Councils must monitor both resource use and the state of freshwater. Monitoring should include mātauranga Māori, and may involve tangata whenua. The council must analyse trends and take action if the current plan settings are not achieving the environmental outcome set for each value (clause 3.9) and ultimately the long-term vision. For more information, see sections Clause 3.9: Identifying values and setting environmental outcomes as objectives, Clause 3.18: Monitoring, Clause 3.19: Assessing trends and Clause 3.20: Responding to degradation.
This guidance initially focuses on the NPS-FM provisions that must be applied at each stage of the NOF and that are critical to successful implementation of the NOF. This includes the requirements of Te Mana o te Wai, the long-term visions for freshwater, tangata whenua involvement, integrated management and the use of best-available information.
The guidance then sets out the steps of the NOF. This includes explanation of policy intent as well as suggestions for best practice for setting limits on resource use and identifying environmental flows and take limits.
References in this guidance to 'clause', 'part', 'subpart', 'objective' or 'policy' relate to the respective clause, part and so on in the NPS-FM (using the same terminology as in the NPS‑FM). References in this guidance to 'section' mean section of this guidance and not the NPS-FM.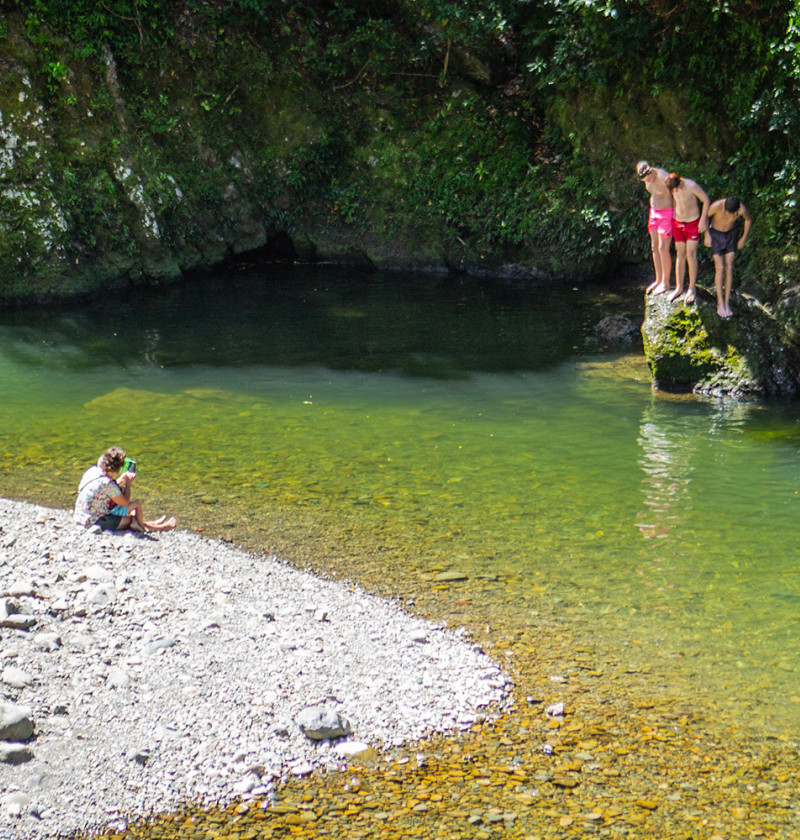 Introduction
July 2022
© Ministry for the Environment