Science of soil health
The functions of soil and how our actions affect soil health.
Soil is made up of:
minerals
organic material
living organisms
air
water.
Soils vary due to geology, time and natural processes.

A well-functioning soil retains water and important nutrients for plants and can drain excess water.
Soil health is a soil's ongoing ability to function as a living ecosystem that supports plant, animal and human health. A healthy soil supports high biodiversity and biodiversity is essential for a healthy soil ecosystem.

Many microorganisms in the soil have similar functions, so if some are attacked by a pathogen (disease-causing organism) or cannot tolerate extreme weather conditions, other microorganisms will be able to carry on the same processes.
In New Zealand councils regularly measure the quality of soil to assess its overall health.
For example
Olsen phosphorus is measured to assess soil fertility.
pH is measured for the acidity of soil. This determines which nutrients are available to plants.
Macroporosity is the number of large pore spaces in the soil. Macroporosity is measured to see how well water and air can flow through the soil.

Carbon is measured to assess how much food and energy is available to microorganisms. The amount of carbon also determines how well the soil can hold on to water and nutrients.
Soil health is continuously measured in New Zealand. The following data is for 2014 - 2018.
Levels of Olsen phosphorous
Levels of Olsen phosphorus were above the recommended range for:
61 per cent of dairy farming and cropping sites
46 per cent of orchard/vineyard sites sampled.
Levels of carbon
Levels of carbon:
within sampled sites were mostly within the target range
were below the target range at 26 per cent of cropping sites.
Levels of macroporosity
Macroporosity was below the target range in:
65 per cent of dairy farming sites
48 per cent of drystock farming sites
46 per cent of orchard/vineyard sites.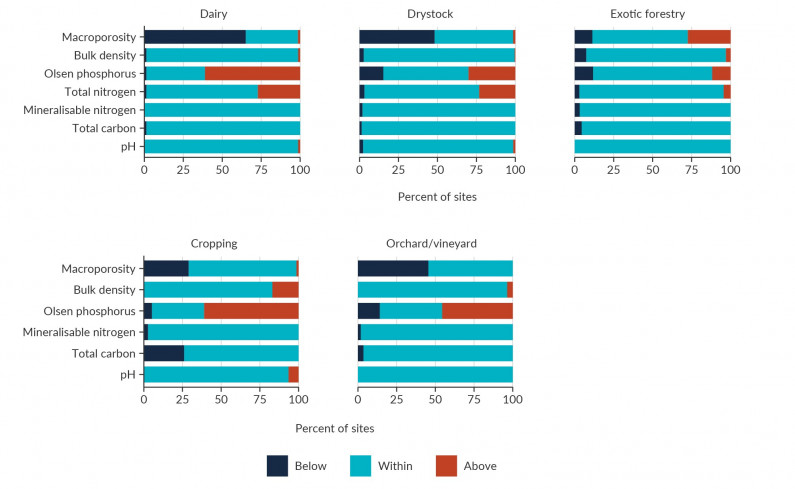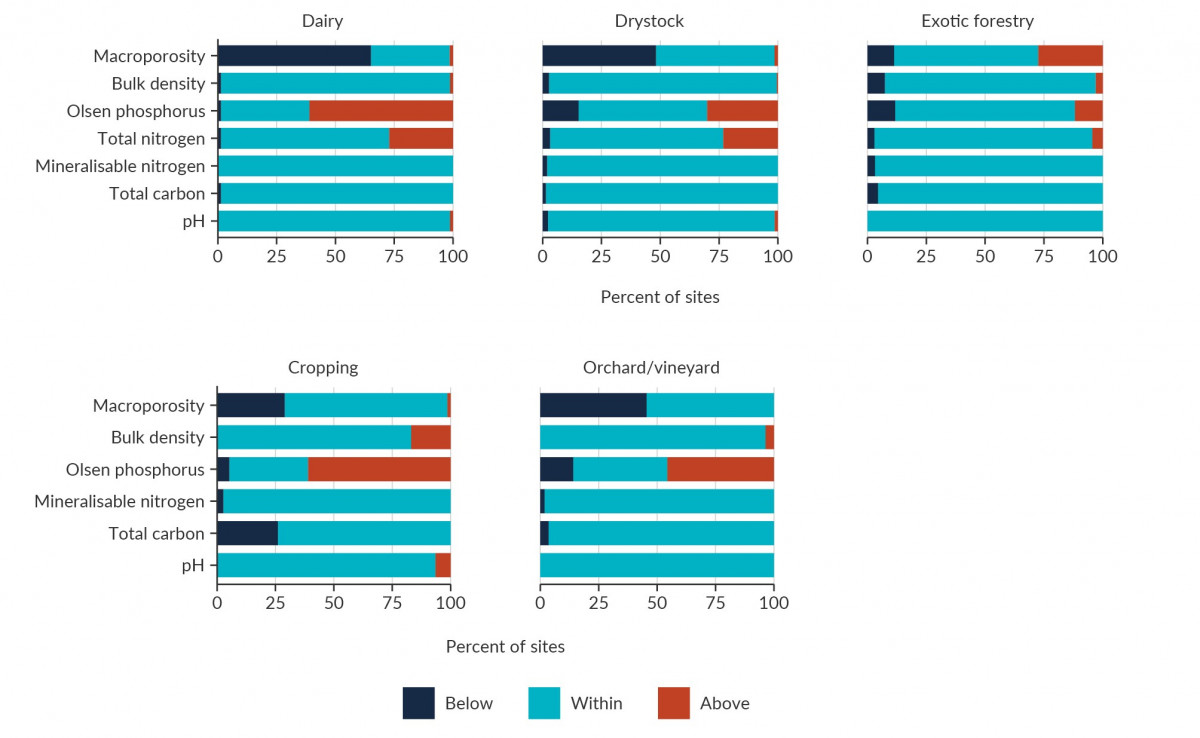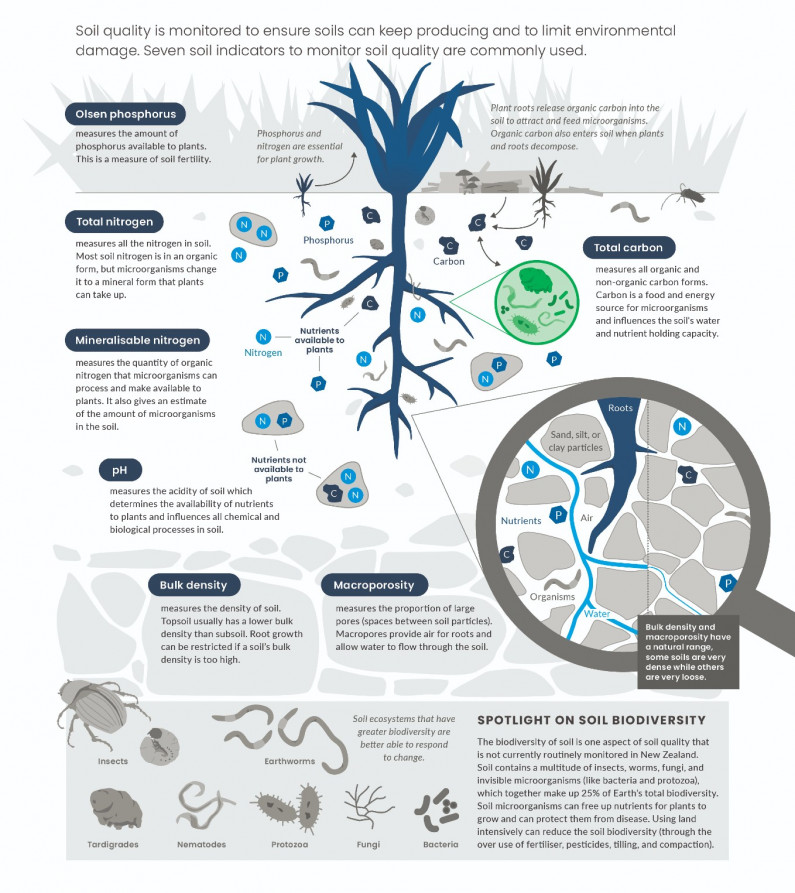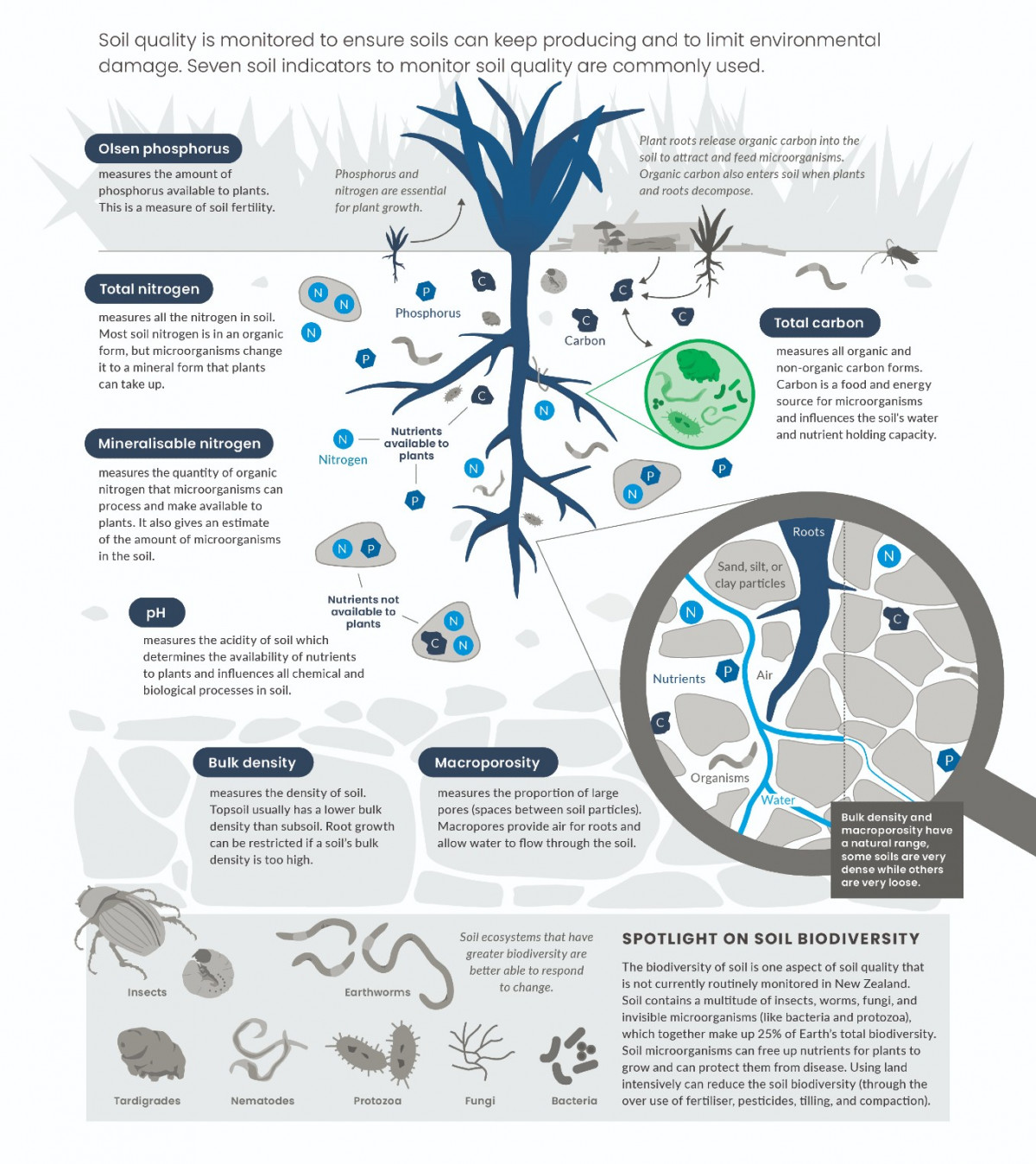 Inappropriate use or poor management can degrade soil. Once soil has been degraded farming productivity is reduced. Farmers face more costs from irrigation, fertiliser, pesticides and animal feed. In turn, everyone sees higher prices on meat, dairy and produce.
Degraded soil can be revived with appropriate management or land-use change. This can be costly and takes time.
Once land has been built on or is surrounded by houses it is almost impossible to use for farming today and in the future. This soil loss severely limits options for future generations.

New Zealand's population is projected to reach 6.8 million by 2073. This will continue to drive the demand for food, housing and recreation.