How our activities affect soil health
How we use and manage our land affects the health of our soil.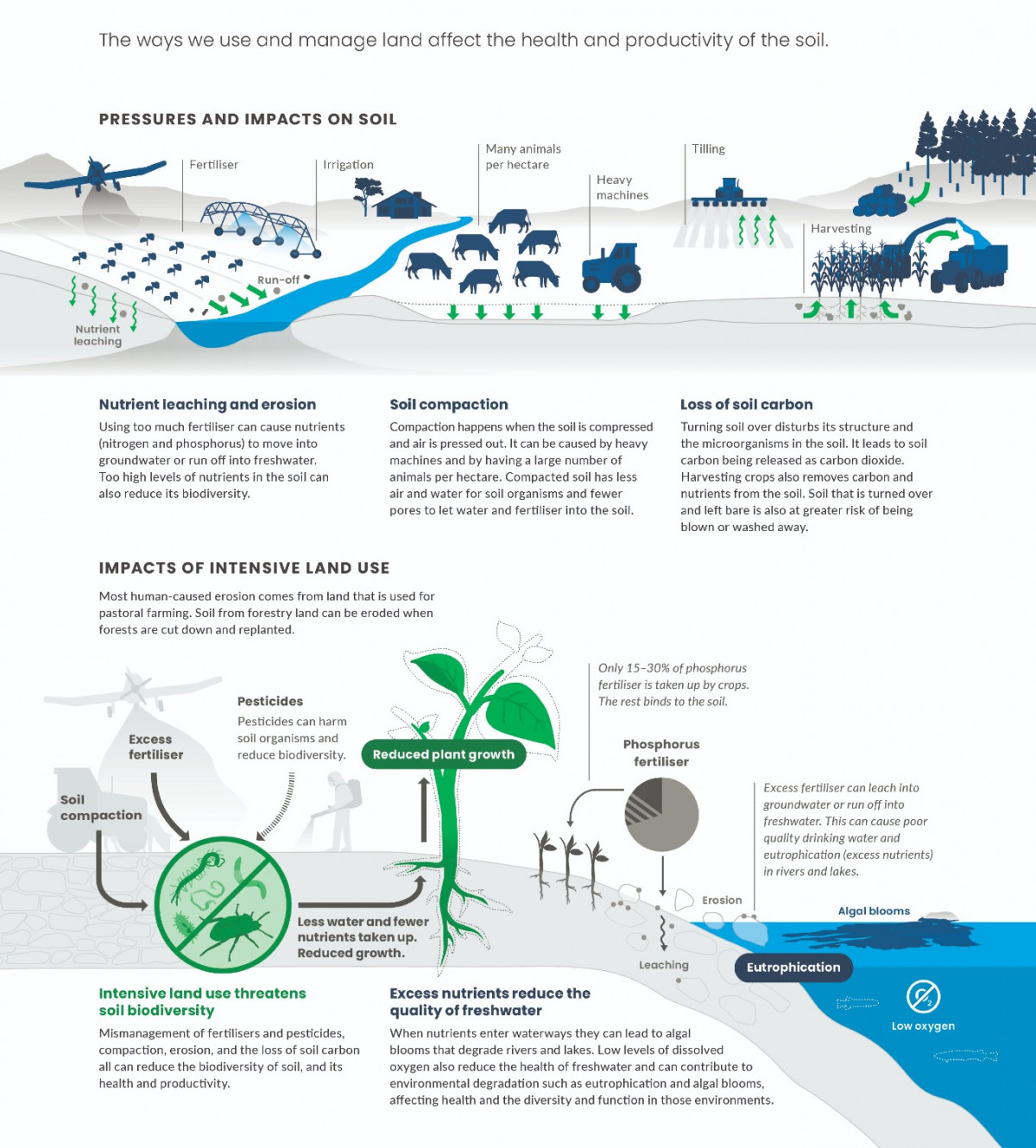 Using too much fertiliser can cause nutrients (nitrogen and phosphorus) to move into groundwater or run off into freshwater.
For example only 15–30 percent of phosphorus fertiliser is taken up by crops. The rest binds to the soil. Excess phosphorus can leach into groundwater and runoff into freshwater.
When nutrients enter waterways they can lead to algal blooms that degrade rivers and lakes. Low levels of dissolved oxygen also reduce the health of freshwater and can contribute to environmental degradation such as eutrophication (excess nutrients) and algal blooms.
This can cause poor quality drinking water and eutrophication in soils and freshwater ecosystems.
Compaction happens when soil is compressed and air pressed out. It can be caused by heavy machines and by having a large number of animals per hectare.
Compacted soil has less air and water for soil organisms. It also has fewer pores to let water and fertiliser into the soil.
Soil compaction can reduce the growth of crops.
Turning soil over disturbs its structure and microorganisms. It leads to soil carbon being released as carbon dioxide. Harvesting crops also removes carbon and nutrients from the soil. Soil that is turned over and left bare has a greater risk of being blown or washed away.
The impacts of intensive land use can cause compaction, erosion and the loss of soil carbon. This can reduce the biodiversity of soil, its health and productivity.
Most human-caused erosion is due to pastoral farming. Soil from forestry land can also be eroded when forests are cut down and replanted.